Timebank News Mahuru (September) 2018
Kia ora Timebank Members
Yay it's spring…I love the change of season and even if it doesn't always feel like the weather is getting closer to summer, the blossom on my plum tree and longer days are welcome signs!
Big thanks to all of you who came along to support our Mama Mia movie fundraiser last month – we made a profit of $990, but more importantly it was a fun (although a little rowdy!) evening.
Events:
Quiz Nights:
This month we have lots of opportunities coming up for connecting with each other. Alisa and I hope to see you at our quiz nights on Tuesdays at the Sprig and Fern Petone – these are a nice way to have some fun together, and are also great fundraisers for the Timebank. Bring some mates and form a team, or just turn up and we'll pop you in a Timebank team – only $2 per person (maxmum of 6 per team). Quiz starts at 7pm but it's a good idea to be there between 6.30/6.45 to secure a table.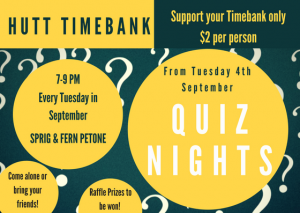 Vegan Pot Luck:
We also have a vegan pot luck dinner coming up on 8th Sept, from 4-6pm at The Petone Depot, Doreen Doolan Mall (near Petone Library). Bring some food and the recipe to share. Gold coin koha for The Depot.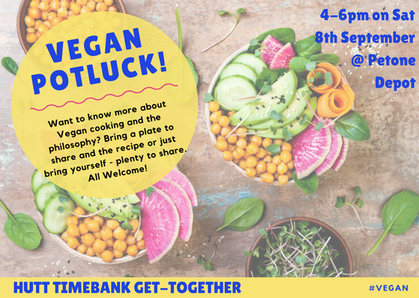 Our regular community connect lunch at Wesley Village in Naenae is on 19th September.
We'd love you to help us promote our events, so CLICK HERE for our facebook events page and please share these events with your friends and family.
Get Timebanking!
We continue to see our Timebank grow and thrive, but remember Timebanking only works when you as members make it work by participating in trading and events. So if you haven't traded for a while, do have a think about something you'd like help with, or something you're able to share with others and pop up a request or an offer.
Alternatively, have a go at responding to someone else's request or offer – and if you need any help at all with this PLEASE contact me – I am more than happy to give you a hand using community weaver (or re-set your password).
And finally, a very warm welcome to our new members this month – Julia, Liz, Karina, Ellen, and Sarah.
Nga mihi
Kirsten Gendall, Hutt Timebank Coordinator