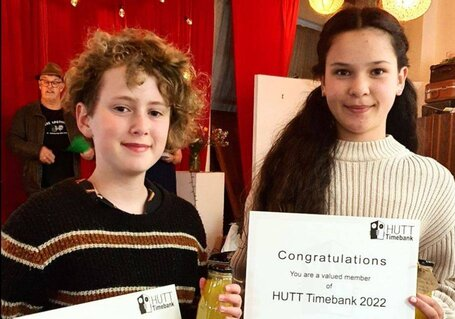 Hutt Timebank
Created back in 2012, we're now a registered charity with hundreds of members, and our passion for building connections in our community has grown as we have.
We have members all around the Hutt Valley and Wainuiomata, and while exchanging our time rather than money is a big part of what we do, in the end it's all about building connections in our community!
Timebanking in Aotearoa New Zealand
The first timebank in Aotearoa New Zealand started in 2005, and there are now timebanks all around the country-each one independent and unique but sharing ideas and supporting each other.
Timbanking Origins
Timebanking was created in 1980 by American legal professor and social justice campaigner Edgar Cahn, and there are now timebanks in over thirty countries.
Five Core Values of Timebanking
1. Asset – Everyone is an asset; society's real wealth is its people.
2. Redefining Work –Some work is beyond price.
Work has to be redefined to value whatever it takes to raise healthy children, build strong families, revitalize neighborhoods, advance social justice and make the planet sustainable.
That kind of work needs to be honored, recorded and rewarded.
3. Reciprocity – Helping works better as a two-way street.
The question: "How can I help you?" needs to change so we ask: "How can we help each other build the world we both will live in?"
4 Social networks – Networks are stronger than individuals.
People helping each other reweave communities of support, strength and trust. Special relationships are built on commitment.
5 Respect –Every human being matters.
Respect underlies freedom of speech, freedom of religion, and everything we value.
We must respect where people are in the moment, not where we hope they will be at some future point.