The Hutt Timebank is one of many around the country and we have been formally operating since November 2012.
We have members with a wide range of skills, exchanging things like music lessons, housework, gardening, computer/IT help, carpentry, tutoring…the list goes on and the possibilities are endless!
Hours are logged via an online system that keeps track of trading, however this can also be done via the coordinator if you don't have access to a computer.
Our Coordinator:
Kirsten Gendall, Coordinator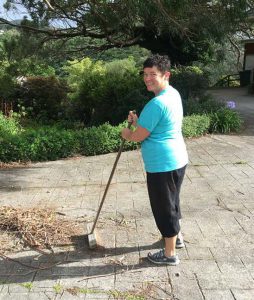 I am employed 5 hours a week as one of the Hutt South Timebank Coordinators. I have four great children of a wide age range (24 years – 6 years) so am adept at meeting a wide range of needs! While this is challenging at times, I love being a mum and traipsing around various sports fields, school activities, playcentre, performances, WOW – my big girl has been a model in WOW for the past 2 years!
The things I love about living in Petone (having done so for the past 20 years) are the beach, sun, flat, wind, my neighbourhood and the people. Growing up in Days Bay instilled in me a love of the outdoors and I still love getting away from it all to the beach, bush, rivers, lakes whenever I can.
Here's some of what I do:
Sign up new members.
Provide support to new members.
'Matchmaking' – facilitate interaction between members, including individual trading and organising social and group activities.
Sourcing funding.
Want to Join or Contact Us?
E-mail: hutttimebank@gmail.com
Phone/Text: 021 0243 4953